Jean-Jacques Giraud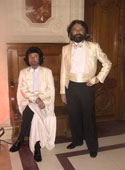 Chevalier du Mérite des Arts et Lettres.
Medal of the French Government, Ministery of Culture.
Prix d'honneur. Reward of Osaka Festival - Japan 1980
Diplôme d'ami de lumière. Lourdes. Biennale d'Art sacré. 1983

Personnal main Exhibitions
1974: The Festival of the Abbey in Solignac with Ballets (Near Limoges).
Festival of Avila. Spain.
1977: The Festivals of Sarlat and Saint Emilion (Near Bordeaux).
1978: Galerie Charles VII. Poitiers.
1979: Galerie Katia Granoff, Place Beauvau. Paris.
The Cultural Center of Agen.
1981: Hôtel Montfleury Intercontinental. Cannes.
1982: Stage Design for « La Farce de Maître Pathelin », Opera Bouffe of Henry Barraud. Theatre du Ranelagh. Paris.
The French Cultural Center. Galerie Delacroix. Tangier. Morocco.
1983 Galerie France. Bordeaux.
1986: International Festival of France. Chapelle St Jean. Saumur.
1988: Galerie des Muses. Hôtel Scribe. Paris.
Theater of Saumur.
1990: Société Générale. Toronto. Canada. Exhibition sponsored by the French Consulate.
1991: Novotel. Ottawa. Canada. Sponsored by the French Embassy.
Winnipeg. Canada. Sponsored by the Alliance Française.
1993: Hôtel du Golfe. Deauville. Galerie Liliane François.
1994: Maison Française. French Embassy. Washington D.C.
1999: Galerie Agora. Gstaad. Switzerland
2000: Hotel Le grand Chalet and hotel Olden. Gstaad
2003: Chantilly. Exhibition with the watercolours of His Royal Highness the Prince of Wales.
2004: Senate. Pavillon Davioud. Luxembourg Garden. Paris
2008: Hotel Minzah. Tangier. Morocco
2011: Société Générale. Poitiers

Museums
1984: Musée du Cloître. Tulle. France.
1986: Old American Legation. Tangier. Morocco.
Sacred Art
1980: Way of the Cross. Eglise St. Etienne de la Cité. XIIth Century. Périgueux.
Private Collections
Canada -England - France - Italy - Japan - Malta - Morocco - Portugal - Senegal - South Africa - Spain - Sweden - Switzerland - USA.
Since 1982, most of Jean-Jacques Giraud's work is by commission : portraits of individuals, families, dogs, cats, other animals, houses interiors and exteriors, screens and fire screens, subjects such as circuses, dolls, still lifes, sacred art...